Reba has problems with Kyra going out on a date alone with her 17 year old boyfriend, so she asks Cheyenne and Van to double date with them. Later, Kyra gets dumped because she would not "take the next step" in the relationship. Meanwhile, Barbara Jean believes Brock is cheating on her and asks Reba to interrogate him. Reba finds out that Brock has been seeing a therapist and taking "Happy Pills". Barbara Jean is upset that Brock is doing this but comes to the conclusion that it's all right cause Reba did the same thing when Brock and her split up.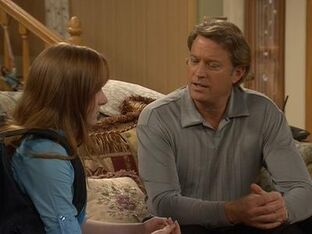 Barbra Jean Hart begins to believe that Brock Hart is having an affair, but what Brock doesn't want to admit is that he is on antidepressants. Meanwhile, Kyra Hart is down because Scott dumped her.
This episode marks the second mention of Scott, Kyra's 17 year old boyfriend, although he is not seen, he plays a large role in the plot.
"You're on happy pills! That's all the proof you need to know they don't work"!

"And the fact that you're alive is proof that they do work". - Barbra Jean and Reba

Don't you wanna know what that was all about"?

"Not really, how good could it be". - Reba and Brock

"I can't find tea, all i can find is salt". - Van
Ad blocker interference detected!
Wikia is a free-to-use site that makes money from advertising. We have a modified experience for viewers using ad blockers

Wikia is not accessible if you've made further modifications. Remove the custom ad blocker rule(s) and the page will load as expected.